Diet in a Box: Revolutionizing the way people perceive healthy meals
Healthy · Calorie Counted · Convenient · Delicious
Diet in a Box continues to be Cebu's No.1 Healthy Food Delivery. It's official and sealed - awarded as Best Wellness Food Delivery in Best of Cebu 2016.
Diet in a Box has been recently awarded as Best Wellness Food Delivery in Best of Cebu 2016.
(2016)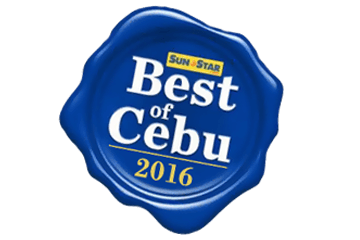 Diet in a Box was also featured at Zee Lifestyle magazine last August 2016.
(August 2015)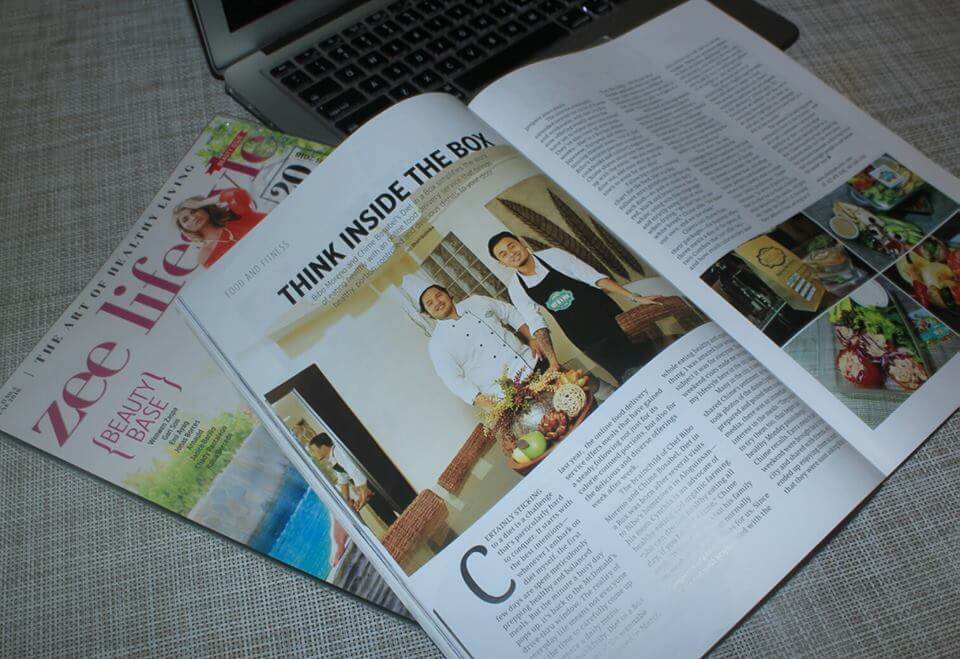 MagTv, Cebu helped spread our food advocacy by giving us a special on their October feature.
(October 2015)
Sunstar featured us on their weekend spread last June 2016 and gracefully puts us in the covers of their weekend magazine.
(June 2016)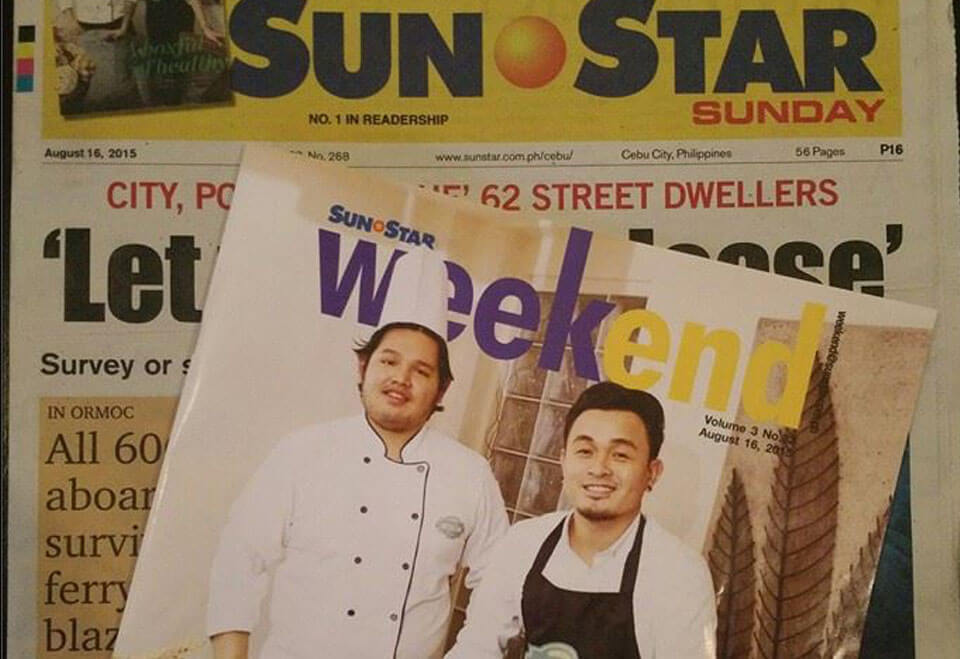 ABOUT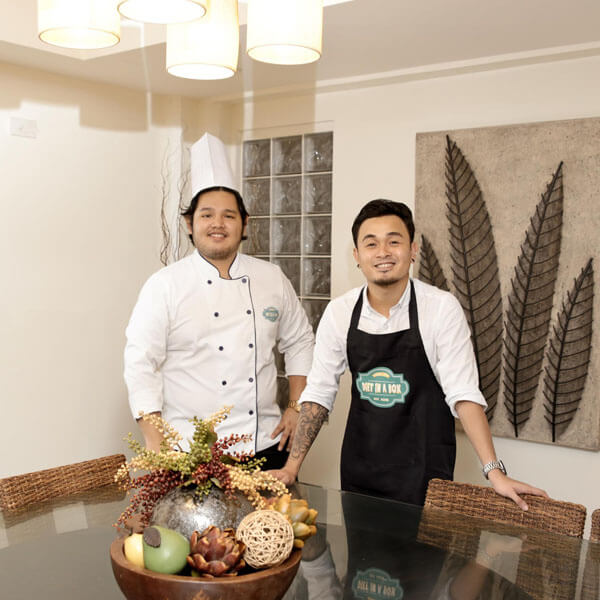 Diet in a Box is a purposeful small business that aims to inspire every single Cebuano switch to a healthier way of eating. We want to make a difference by helping people build a healthier diet plan and put life to our advocacy: "REVOLUTIONIZE THE WAY PEOPLE PERCEIVE HEALTHY MEALS." The Diet Plan that we offer simply revolves around the concept of Calorie Control. We don't do a blanket approach when we calorie count – not everyone is given the same amount of calories for their meals. That's simply because each one of us requires a certain daily calorie intake basing from our body measure and daily activity. So we provide you of different Calorie Plan Options that will definitely fit on your body needs. You'll expect a sumptuously healthy, organic, calorie counted meals, nonetheless from Diet in a Box.
HEALTHY INGREDIENTS:
The ingredients we use for your healthy diet meals are harvested from Chef Bibo's organic farm in the town of Aloguinsan. We also exhaust other organic resources from our neighboring towns like CarCar, Balamban and other known local suppliers in the city, for ingredients that we don't have at the farm. Chef Bibo himself prepares and puts premium on healthy, gourmet, moderation, variety and balance unto your daily calorie counted diet meals.
DELIVERY FLOW:
We deliver "On-The-Day" and we give our clients the liberty to choose of their Delivery Time as long as it falls on this time frame -6:30 A.M (the earliest) to 3:30 P.M (the latest). We deliver five days a week (Monday to Friday). Example: I ordered for a SUPREME (Breakfast,Lunch and Dinner) Weekly Diet Plan and I chose 8:00 A.M for my delivery time. By Monday, I will be expecting all three meals for day 1 at my selected time which is at 8:00 A.M. Same set up goes for the remaining days of the week. We are also giving our clients the liberty to adjust their delivery schedule. They just need to inform us 24 hours priory to field visits.
METHOD OF PAYMENT:
At Diet in a Box, we make it simple for you. It's just Cash on Delivery. Full Payment for the entire week upon first day of delivery. Below is our Weekly Diet Meal Plans:
COMBO A: Breakfast and Lunch [5 day delivery]
Option1

800 Calories for 1,350php

Option2

1,000 Calories for 1,500php

Option2

1,200 Calories for 1,700php
COMBO B: Lunch and Dinner [5 day delivery]
Option1

800 Calories for 1,350php

Option2

1,000 Calories for 1,500php

Option3

1,200 Calories for 1,700php
SUPREME: Breakfast, Lunch and Dinner [5 day delivery]
Option1

1,200 Calories for 2,000php

Option2

1,500 Calories for 2,250php

Option3

1,800 Calories for 2,500php
Lean Machine Diet Meal Plan
Option1

Breakfast, Lunch and Dinner for 3,350php

Option2

Breakfast and Lunch for 2,600php

Option3

Lunch and Dinner for 2,600php
DELIVERY RESERVATION:
You cannot just start anytime you like. Since we personalize and put a signature style of gourmet cooking in your daily calorie counted meals, we need to make sure you have booked at least days before we start the delivery week. We have a Reservation CUT-OFF which is every Saturday, 3:00 P.M. Any orders logged beyond that time will be considered an early booking for the week after.
FOOD LIFE SPAN:
Locally sourced produce and the freshest ingredients means food that is exceptional in taste without any preservatives. Thus, if you store your Diet in a Box in a normal room temperature for more than 2 hours, your meals might easily spoil. ALWAYS store it at a FRIDGE and you may just reheat it before eating.
DELIVERY AREA:
We also need to review the location and will confirm if feasible for delivery
Lahug: Free Delivery
Ramos: Free Delivery
Banilad: Free Delivery
A.S Fortuna: Free Delivery
V. Rama: Free Delivery
Jones Avenue: Free Delivery
Mabolo: Free Delivery
Escario: Free Delivery
Urgello: Free Delivery
Guadalupe: Free Delivery
CBP: Free Delivery
Pit-Os: 50php Delivery Fee
Colon/Pasil/Manalili: 50php Delivery Fee
North Reclamation Area: 50php Delivery Fee
Mandaue: 50php Delivery Fee
Labangon: 50php Delivery Fee
Banawa: 50php Delivery Fee
Pardo: 50php Delivery Fee
Nivel Hills: 50php Delivery Fee
SRP: We do not facilitate deliveries in SRP for the interim.
Mactan: We do not facilitate deliveries in Mactan for the interim.
Talisay: We do not facilitate deliveries in Talisay for the interim.